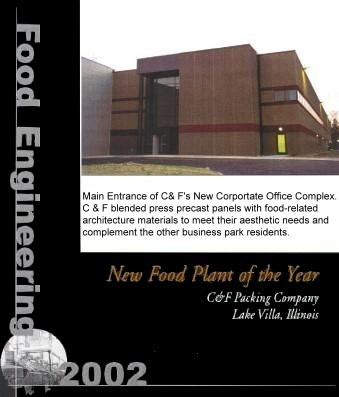 C&F Packing has recently designed, built and started-up a new, state-of-the-art meat processing plant in Lake Villa, Illinois. Founded in 1945, C&F Packing has grown into one of the largest independent producers of custom cooked meat products, meat pizza toppings and other custom cooked meat products in the country. The approximately 120,000-square-foot facility is one of the first of a new generation of food facilities that completely separates raw product operations from cooked product operations. This separation is vital to insure the safety and quality of C&F products.
C&F Packing was originally located in the Chicago meat packing district. When the business changed from portion control to value-added meat products and meat components, C&F moved to a 54,000-square-foot facility in Elk Grove Village, Illinois. In order to meet its growing customer demand, improve quality and increase capacity, C&F Packing began a 16-month search for a suitable site to build a new plant, concentrating efforts in Illinois and Wisconsin. Throughout this search C&F Packing and their engineers were planning the innovative new plant.
C&F purchased approximately 16 acres in the Park Place Business Center in Lake Villa, Illinois; the largest investment in the business park to date. The parcel included substantial wetland and environmentally sensitive areas. C&F was challenged to plan a facility that blended with established park covenants and integrated with the residential and community, both private and public, to provide input and information during the planning phase. C&F's goal for this facility was to contribute to the community as well as the company's growth.
By constructing a technologically advanced, USDA facility, C&F Packing could increase production for their existing products and attract increased business from manufacturers needing additional production capacity. By paying particular attention to sanitation in all aspects of the design of the facility, their clients are assured that C&F can produce products that will meet or exceed their own quality standards.
The single most important feature of the new facility's plan is the complete separation of raw and cooked products. Employees who handle raw product are completely separated from those who handle cooked product through the incorporation of separate entrances, employee support facilities, flow-through smokehouses and connecting corridors. Separate Shipping and Receiving docks, each with its own trucker's lounge, maintain the separation of raw from cooked. Independent HVAC systems insure that no cross contamination of air-born pathogens is possible.
Due to ever-increasing sanitation requirements from the USDA and FDA, and more importantly, from C&F Packing customers, C&F engaged mechanical and HVAC engineers to apply design solutions from the Pharmaceutical industry to this innovative facility. This design philosophy allowed C&F to invest in a pioneering process refrigeration and ventilation system that dedicates separate supply and return air systems to both raw and cooked operations including unique filtering and environmental controls.
A sanitary walk-on ceiling separates the processing operations from maintenance operations creating an interstitial space above all production areas. This ceiling eliminates a major area for bacteria growth, reduces condensation and allows economic temperature and humidity control in the actual production spaces. The interstitial space provides a safe, heated and dry atmosphere for location and maintaining utilities. All electrical distribution panels for equipment in the production rooms are located here, improving safety and eliminating the need for costly NEMA4X ratings. HVAC ductwork is located in the interstitial space eliminating cleaning problems from insulation and condensation issues. Maintenance personnel can work on these systems without worrying about slippery wet floors or using a lift or a ladder. This reduces the risk of injury during routine maintenance.
Finally, for both process and static refrigeration and freezing systems, an advanced central ammonia refrigeration plant and temperature monitoring system was installed and integrated with C&F's patented CO² product freezing system. All horizontal ammonia piping and valve groupings are located on the roof, with direct access from the interstitial space, providing accessibility and employee safety. A central machine room for this system was equipped with state of the art ammonia detection and an air evacuation system to reduce the risk of injury in the event of an ammonia leak.
The C&F facility plan allows for an efficient product flow using a modified "U" pattern. Raw materials arrive at the 32° F Raw Receiving Dock where they are weighed and transferred directly to the 32° F Raw Cooler. From the cooler, raw product travels directly to the Grinding Room. By installing a state-of-the-art grinding system controlled from a central computer, C&F can increase production rates without increased labor costs. Product then moves into the adjacent Holding Cooler. From the Holding Cooler, products are transferred to cookhouses, smoke houses, ovens or to the Sausage Stuffing Room for final processing prior to freezing and packaging.
The transition from raw to cooked product was uniquely coordinated in the design of the facility. C&F purchased new smokehouses that allow for flow through cooking. By partitioning the room, raw product can enter the smokehouse from the "raw" side and exit directly into the "cooked" side. In a traditional one-sided smokehouse, product enters and exits from the same door much like a residential oven. In order to avoid product contamination the room must be sanitized during cooking. The flow-through design eliminates this additional labor.
Once products are put into production they are cooked and then frozen through either mechanical or cryogenic freeze tunnels in a separate Freezing Room. From there the product is packaged after traveling into a 40°F Pack-off Room. Products are then transferred directly into their new expandable Freezer which currently can store approximately 125 truckloads of frozen product, or, onto the 32°F Shipping Dock adjacent to the Freezer. A central Shipping Receiving office located on a mezzanine between the two departments provides efficient oversight while maintaining the product separation. Use of continuous dock leveler pits with vertical self-storing levelers represents another feature that allows for improved sanitation.
Other design features of the facility include acid resistant brick flooring throughout the production areas to mitigate deterioration caused by the acidic nature of both C&F's raw product, the chemicals associated with the sanitary clean-up cycle and physical stress on the flow form casters and feet of movable equipment. Insulated metal panel partitions are protected with 24" high concrete curbs and coved transitions between surfaces allow for ease of clean up and sanitation. The facility also includes a USDA office, Pilot Kitchen for product development, a Test Kitchen for testing new products, a large state-of-the-art Quality Control Lab and a Micro Lab with its own HVAC and separate entrance for product testing.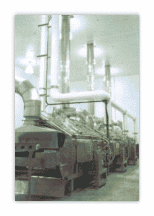 POWER GENERATION / COGENERATION:
The C&F plant has the ability to stay in production during an electricity outage. To provide standby/emergency power for critical process and refrigeration systems, the two 1100kw self contained engine-generator nodules are installed in a dual parallel 480/277 volt scheme. In the emergency power mode, they can supply 2200kw of emergency power to all critical loads and numerous selected loads as desired.
In addition, the low emission natural gas engines offer cost savings because they run very clean and result in lower maintenance and repair costs.
In a food plant, both refrigeration and process loads are equally critical to the operation of the facility. Multiple high stage and boosted compressors can be controlled to maintain required refrigeration systems in emergency situations. Likewise, process systems can be maintained as required to prevent loss of product. Paralleled generator sets are the most feasible to use where economy, reliability and flexibility are all goals of the onsite power system.
In addition, this system is designed with full service cogeneration capacity that can be used to sell power back to the utility company.
GREASE AND WASTE TREATMENT: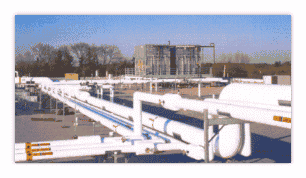 The production areas have hose stations and stainless steel floor drains for use during wash down operations. The process waste that is collected by the floor drains is piped separately from the sanitary waste into a waste treatment area. The smokehouses have stainless steel floor drains that discharge into a stainless steel piping system that connects to the process waste system with a solenoid operated diverter valve.
Wash down operations (including much of the grease equipment) produce "Brown (or bad) Grease". The "Brown Grease" is skimmed-off by a gravity separator and goes into a holding tank. The sludge that collects in the bottom of the separator is also pumped into a holding tank and both are accumulated in these tanks until a vendor picks them up. The wastewater from the separator is then equalized and diverted into a DAF (diffused air floatation) tank where it is further treated and then discharged into the sanitary sewer as clear water.
During smokehouse and other cooking operations, the grease that is produced during these processes is considered "white or Yellow (good) Grease". This "Good Grease" is piped from these rooms to the waste treatment area using some of the existing stainless steel floor drains and piping. When it arrives in this area it is diverted to separate holding tanks designated for the "White and Yellow Grease". It is then held for pick up by a vendor,
C&F along with its engineers paid careful attention to expandability during the initial planning. By utilizing a "U"-shaped flow, C&F will be able to expand production spaces, coolers and freezers, as business growth requires. The response by C&F customers has been very positive and the increased business has C&F already considering a facility expansion.