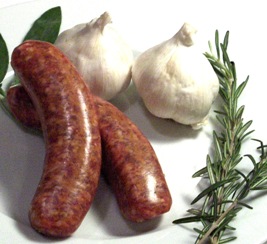 FRESH AND FULLY COOKED SAUSAGE
Link, rope and bulk sausage are available in Italian, Bratwurst, Polish, Chorizo, Andouille, Breakfast and other custom flavor profiles. Our link sausage is produced in fresh natural casing, cooked natural casing or cooked skinless links.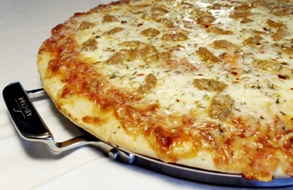 FULLY COOKED MEAT PIZZA TOPPINGS
Our meat pizza toppings are made from pork, beef, or chicken. Many sizes are available from large chunks to small crumbles. We have several flavor profiles to choose from or we will help you create your own signature flavor. Available in all meat or extended.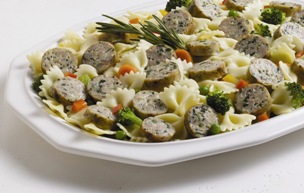 FULLY COOKED SLICED SAUSAGE
All cooked sausage flavor profiles, whether pork, beef or poultry are available sliced in various thicknesses either coined or bias.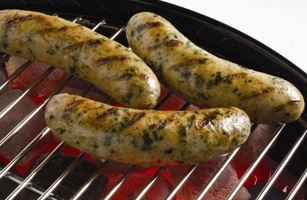 FULLY COOKED GOURMET CHICKEN SAUSAGE
Our chicken sausages are custom made with gourmet ingredients such as sun dried tomatoes, fresh garlic, spinach, peppers, artichokes, fresh basil, onions, olives, Asiago and other fine cheeses. These sausages are also available in more traditional flavors such as hot and mild Italian, bratwurst, or chorizo. We have the ability to create almost any custom flavor profile you desire. Available with natural casing or skinless.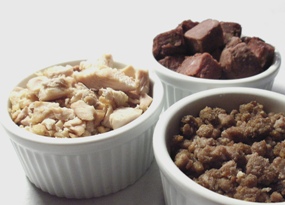 FULLY COOKED DICED AND GROUND MEATS
Several sizes and styles are available in pork, beef, or poultry. Custom or signature flavors are available upon request.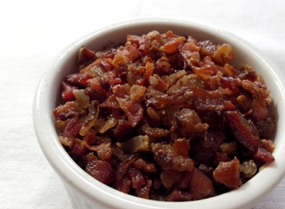 FULLY COOKED BACON
Made from only the best raw materials, our bacon has a rich flavor that will compliment any of your products. Available in different blends and sizing options.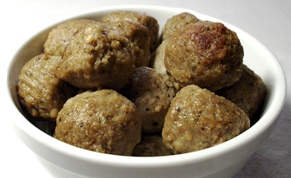 MEATBALLS
Our meatballs are manufactured in numerous flavor profiles. Sizing varies from a small wedding meatball for soups to large entree sizes. Custom or signature flavors are available upon request.